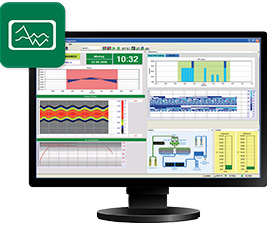 At a glance
Live representation of quality data, measured values, conditions and video sequences
Software Add­-on for ibaPDA and ibaHD-­Server
Scenario Player for video cameras that record using ibaCapture­
Time and length related display
Unlimited number of displays
Offline Trending from dat files and HD data recordings
Freely configurable visualization objects like e.g.
- Online FFT analysis
- 2D­-colored display for vector signals
ibaQPanel is a software addon that allows for the live display of process and quality data in an HMI-picture. ibaQPanel combines the functionality of technological representations of measurement variables with elements typical for HMI screens. It is seamlessly integrated in ibaPDA.